About Fudo
Technically speaking, FUDO HOOKS predecessor dates back over a hundred years within Nishiwaki, a small city located at the heart of Japan's Hyogo Prefecture. Nishiwaki has a long and storied history of manufacturing the world's premier fishing hooks. FUDO started as a small town factory that produced premium iron made fishing hooks.Until that time, FUDO's sole sales avenue was via OEM channel, producing hooks that would be sold under other trade names.
Big Game Hooks
It was not until 1996 that FUDO began manufacturing high carbon made hooks and stainless steel commercial/trolling hooks. Since then FUDO has continually improved processes and techniques to increase quality, strength, and other qualities that serious big game anglers desire.
2005 was a major turning point for the organization. It was during this year that the brand FUDO HOOKS was officially born, with the mission of providing high quality fishing hooks not only in Japan but to anglers and commercial fishermen around the world while still staying true to OEM production. That year, we exhibited for the first time, at the 2005 EFTTEX Show in Warsaw.
From there, the sales area steadily expanded, and now FUDO is exported to almost all European and Asian countries. In relatively short order, the FUDO brand became established as a Japanese fishing hook brand loved by anglers and commercial fishermen around the world for premium performance and durability.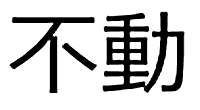 Fudo is an English translation of two characters (Japanese kanji), "Fu" translates as "not" (left character) and the second (a compound character of "strength" (right most character) and "heavy" (middle character) combine to mean "move." In other words the characters used for "Fudo" combine to mean "not move" or in English, immovable, immovability or stability.
FUDO Launches in the Americas and Beyond
FUDO's presence in the big game hook market was predominantly centered around their OEM business. FUDO was approached by Maritime Custom Tackle in the United States in early 2019 with the desire to formally launch the brand's big game hook business under the trade name FUDO. One style of hook (FUDO X-Strength (now Super Ocean) Curved Hooks were launched on Maritime Custom Tackle's site in late 2019 and gained immediate attention and acceptance among serious big game anglers and crews. After months of formal planning, product development, and production, FUDO is poised to become the world's #1 big game fishing hook brand.