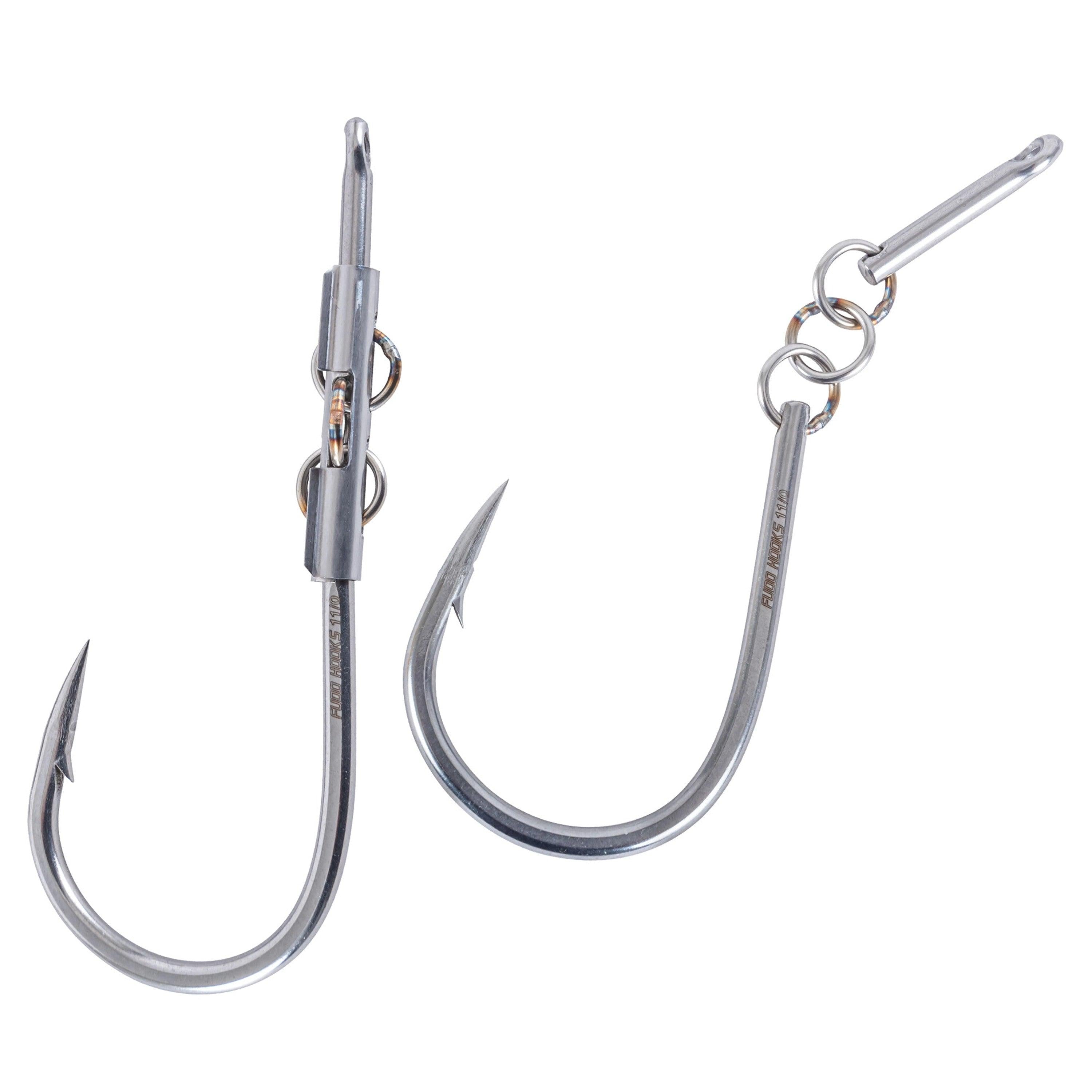 Sta-Stuk Knife Edge Point by FUDO Hooks
---
SKU: FD2-STA-092
Sale price

$89.99
Regular price
(/)
Sold outSave $-89.99
Description
Sta-Stuk is a revolutionary and PATENTED (US Patent #10405529) big-game hook design that is proven to improve your hookup ratio when targeting big game species. The brainchild of Release Marine's founder Sam Peters, the Sta-Stuk idea and concept has been proven to be the most effective trolling hook for offshore sportfishing. Tested world-wide over the last 5 years and endorsed by Top Captains Including Marty Bates of Cape Verde/La Onda Milla fame.
How It Works
A fish hook is nothing more than a lever, with the hook shank serving the purpose of driving the point home. However, once hooked, the shank creates rotational torque during the fight, which often results in a pulled hook as it twists out of the fish.
Using a system of sleeves and welded rings, the Sta-Stuk hook remains intact on the initial bite, separating only at a specific amount of pressure. By reducing the length of the shank, the design reduces the amount of rotational torque created during the fight and lowering the amount of pulled and thrown hooks.
The Design
Sta-Stuk consists of a Fudo hook body with welded rings as well as an inner sleeve and an outer sleeve. To use, simply line up the welded rings along the slots in the sleeves and gently squeeze the sleeves together with needle-nose pliers to form a single unit.
Proven to Work
The design has undergone significant field-testing in Cape Verde, Costa Rica, the United States and elsewhere since 2017. After surpassing 100 individually logged blue marlin bites in 2021, the hookup-to-release ratio was 75 percent.
Patent Protected
The Sta-Stuk design is protected by a United States Utility Patent #10405529 as the world's first fish hook composed of multiple pieces which is designed to separate under a specified amount of pressure in order to reduce the rotational torque on the shank.
Specs & Features
Revolutionary design
Improves hookup ratio
Reduces rotational torque on the shank
Designed to separate at a specific amount of pressure
Protected by a United States Utility Patent
Proven to work in marlin fisheries worldwide
How to Fish Sta-Stuk Hooks
The preferred lure-rigging method incorporates 400-pound-test multistrand cable, with the hook as far back in the lure as deemed legal by the IGFA—the hook eye covered in the lure skirt.
The outrigger clips should be set and tested to release at 12 pounds of pressure. The drag setting on the reel at strike should be set at 20 pounds of pressure. This ensures that the hook point is driven into the fish by the outrigger clip on the initial bite, and the strike drag is sufficient to separate the clips on the shank of the hook, reducing rotational torque during the fight. After a few seconds at 20 pounds of drag on the reel, the setting can be raised or lowered as needed during the fight.